An institutional website is an effective and economical way to present your company to your current customers, and especially to make it known to potential new customers. With an advanced content manager, the institutional presence of your company will present credibility and faithfully represent the corporate identity and training offer to your customers.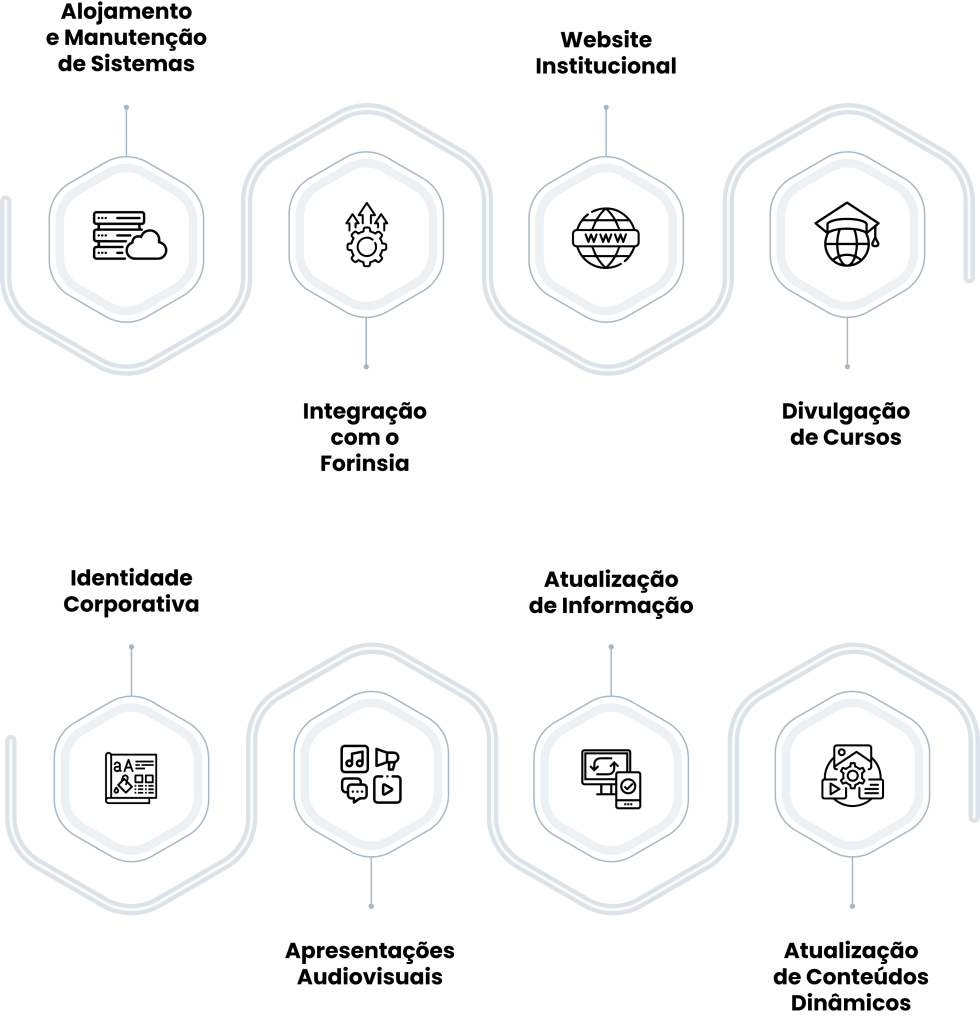 FORWEB is a set of services and applications based on a highly intuitive interface that allows the management of contents through concepts recognised by users, as if it were a system of folders and files. It also provides an advanced text editor that allows the production of structured documents without the need for knowledge of HTML.
This service allows you to quickly, simply and economically activate an advanced website for companies of any size and sector. We comply with all compatibility, usability and accessibility requirements, necessary for the website to communicate broadly and dynamically with all visitors, search engines and social networks.
The system that supports the website, allows a practical content management ("backoffice") in a simple and fast way accessible to any user. Allows a quick update of menus, pages, images, videos, news, events, and other content.
It is possible to define various levels and hierarchies of use suitable for organisations with several users who update the website.
The content management system that serves the website has built-in mechanisms that facilitate the compatibility of content with search engines (Google, Yahoo, Bing, etc.). Thus, your website will have greater chances of being at the top of search results made on the Internet and consequently an increase in visitors and customers.
The website manager has a simple and intuitive interface to easily manage and update content.
We provide several tables of navigation and search courses in order to guide the trainee in the search for the courses you want.
Courses starting soon and new courses;
Courses by training area;
Free search, by district, modality and area of training.
There is a predefined and automatic template for the presentation page of courses and actions.
The system is prepared to produce reports and statistics, through Google's Analytics system.
The website has several mechanisms for connecting to social networks:
News or inserted content can appear as an entry on Twitter and Facebook;
We embed network sharing buttons on all content pages.
Optional module for registering and sending newsletters. The system allows you to edit, relate website contents and send. The management of registered users is also flexible and can also be imported from other platforms.
The website is dynamically updated with regard to the registration of information on new courses and training actions. The system loads this information from the FORINSIA training management software, avoiding the need to register the same information on two platforms.
Registration buttons are automatically created in order to direct the trainees to the online secretariat on FORINSIA and carry out the registration and enrolment.
(For training centres only)